We are authentic cowgirls who prefer ranching more than almost anything else. Getting dirt under our nails and muck on our boots .. . with our men by our sides, they fill the pieces of our mission by caring the heavy loads, who doesn't love watching your very own cowboy work? We are women who love #ranchlife, Calaveras County and a good juicy steak. 
We embrace the multi - generational wisdom passed on to us by the cowboys in our lives... grandfathers, fathers, uncles, neighbors, friends, and even our husbands, absorbing what they know about ranching and we add our own fresh twist and feminine flair to create Calaveras Cowgirl Beef. We are more grit than glamour, though occasionally we carry lipgloss in our jeans.
Calaveras Cowgirl brings you the best of the Calaveras County lifestyle.
Our cows enjoy the rich sloping hills, green grasses and fresh springs that make up our county's bounty and beauty. As women, we understand how to nurture our herd by giving them the best possible cow life. Roaming free, humanely raised, eating healthy local grasses and raising their young with not a care in the world. We haven't started doing yoga with them yet, but it has crossed our minds. 
We enjoy the food and wine culture in our small community, made up of fifth generation ranchers as well as transplants from big cities across the globe. Al fresco dinners here are as elegant as they are relaxed. Conversations around the table range from the benefits of biodynamic farming to the latest trends in food, fashion and what to binge on Netflix. And when the right song comes on we dance. 
Calaveras Cowgirl Beef wants to share with you a lifestyle that is about being a part of something bigger than ourselves: living an authentic life, getting our hands dirty tending to the earth, creating community, gathering with friends and family, eating local and organically minded farm-to-fork foods, enjoying great wines, and laughing. 
Join our vision by enjoying our grass fed beef, following us on Instagram or Facebook, and attending one of our events when the time comes. Cows and horses not required.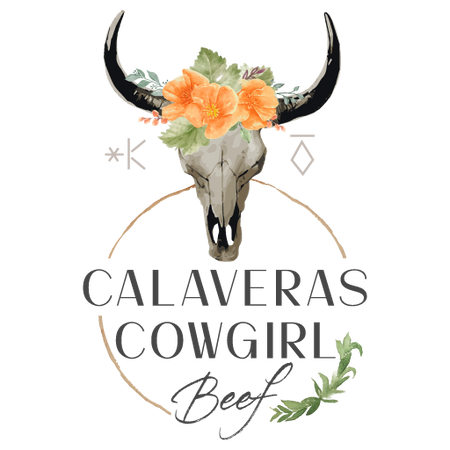 Follow us