HOWDY!
We are Calaveras Cowgirl Beef! Conceived by two women, Amanda Folendorf and Marci Klass. We have one simple goal – to deliver locally produced, consistently delicious grass-fed beef.

Along with our husbands, TJ and River, we have our hearts and hands in every stage of raising our beef.

Located in the gold country foothills of the Sierra Nevada, Calaveras County. Tucked between Yosemite and Lake Tahoe. God's Country.

We produce 100% pasture raised beef. Our beef is USDA Certified.

We pride ourselves on a hard day's work, which translates to some of the best beef you will eat!

Available for pick up or delivered directly to your door! Truly Farm to table.
TASTE THE DIFFERENCE!
Grass Fed vs. Grain Fed
Love & Respect
To say we care for our cattle is an understatement. Our dedication to the humane treatment is more than a priority.... it's a commitment. 

First Things First
Grass Fed Beef is better for you. It's much leaner than its conventional grain fed counterpart.  It's also higher in key nutrients, including antioxidants, vitamins, and beneficial fats that have been tied to improved immunity and anti-inflammation benefits. Grass fed beef is truly clean eating! 
Community Matters
Thriving farms and ranches are the backbone of many rural communities. We believe communities are built around local, real food!  Wine too! 

GET TO KNOW US!

Amanda & TJ
From two worlds, a politician and a Pennsylvania transplant came together and settled in Angels Camp in 2014 on a joint venture to uphold a family tradition. Amanda was originally from Calaveras County. Both had enjoyed their visits to Calaveras enough to permanently root their lives to the countryside.
In 2016, Amanda and her husband TJ took over the ranch from her uncle and his cattle partner by investing in the family tradition – to keep it alive.

Marci & River
Newlyweds Marci and River fell for each other over their love of horses. Chef and Restauranteur, River introduced Marci to the Cowboy life and wooed her with his cooking skills, trucks, and trailers. 
Both renowned in their own right, they are now able to focus on the things they love; horsemanship, riding in the mountains,on the ranch, overseeing and caring for their cattle, cooking for friends and family and enjoying good wine from Calaveras County. 
Enjoy Your Grass Fed Beef!
From our farm to your table
So much is going on with Calaveras Cowgirl Beef we had to fill you in! You guys are our first fa...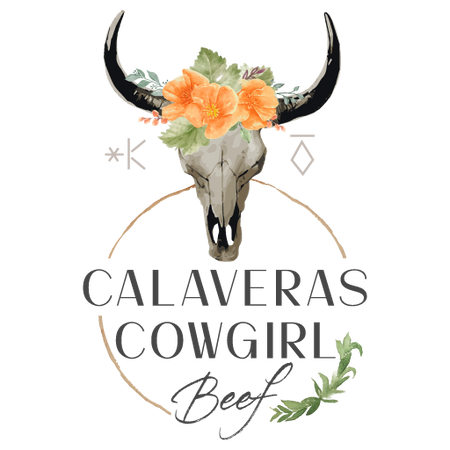 Follow us